10 ways to secure funding for your business
So, you have a brilliant business idea and you're ready to take the leap into entrepreneurship. You're eager to leave behind your overbearing boss and make your vision a reality. But what's the next step? Starting a business often requires careful consideration and funding support, from developing a captivating website to hiring a skilled tech team. Fortunately, there are several funding options available to help you turn your dream into a successful venture. In this guide, HdE AGENCY presents a comprehensive overview of where to seek funding for your business, with examples of businesses that have successfully used these methods.
Start with Bootstrapping
When starting out, many entrepreneurs rely on the tried-and-true method of bootstrapping. This approach involves financing your business using personal funds, such as savings accounts and credit cards. Bootstrapping is a risk-averse strategy that allows you to avoid extensive loans and monthly repayments. However, if you aim to scale your business quickly, it may be beneficial to seek external sources of funding.
One notable example of bootstrapping success is Dell Technologies. Michael Dell started the computer company from his dorm room with a small initial investment of personal savings. Through his determination and strategic decision-making, Dell Technologies grew into a multi-billion dollar corporation.
Consider Loans from Friends and Family
While it may feel awkward to ask friends and family for financial support, turning to your loved ones can be a great first step before seeking external loans. Those closest to you are less likely to demand high-interest rates. While they may not be able to finance your entire business model, they might be willing to lend you a smaller amount to, for example, develop an impressive website. To avoid potential complications, present your business plan to them, clearly communicate your requirements and repayment plans, discuss "what-if" scenarios, and make sure to document the terms of any agreement. Spanx, founded by Sara Blakely, is a prime example of a business that started with loans from friends and family. Blakely received a loan of $5,000, which provided the initial capital to launch Spanx, a shapewear company that later achieved tremendous success.
Explore Business Loans or Overdrafts
If your business is expected to have fluctuating income, securing a bank overdraft might be a sensible option. This approach provides flexible cash flow to fund working capital, such as covering delays between supplier payments and customer receipts. Many major banks in the UK offer favourable overdraft packages to startups, with interest charged only on the amount overdrawn. However, it's important to be aware that overdraft interest rates are often higher than base rates, and overdraft amounts may be repayable on demand. BrewDog, a Scottish craft beer company, used business loans and overdrafts to fund their initial brewery and expansion. By leveraging these financial tools, BrewDog grew from a small brewery to a global brand.
Embrace Crowdfunding
In today's digital era, funding opportunities are more accessible than ever before. Crowdfunding platforms offer a way for aspiring entrepreneurs to share their ideas with a global community of investors and passionate individuals. Platforms like Kickstarter or Crowdcube allow you to pitch your business idea and attract potential investors. Additionally, crowdfunding can help gauge the popularity and viability of your idea before committing significant resources to it. Oculus VR, the virtual reality company, is a notable example of successful crowdfunding. They launched a Kickstarter campaign in 2012 to fund the development of their Oculus Rift headset. Through crowdfunding, they raised over $2.4 million, which played a crucial role in their early success.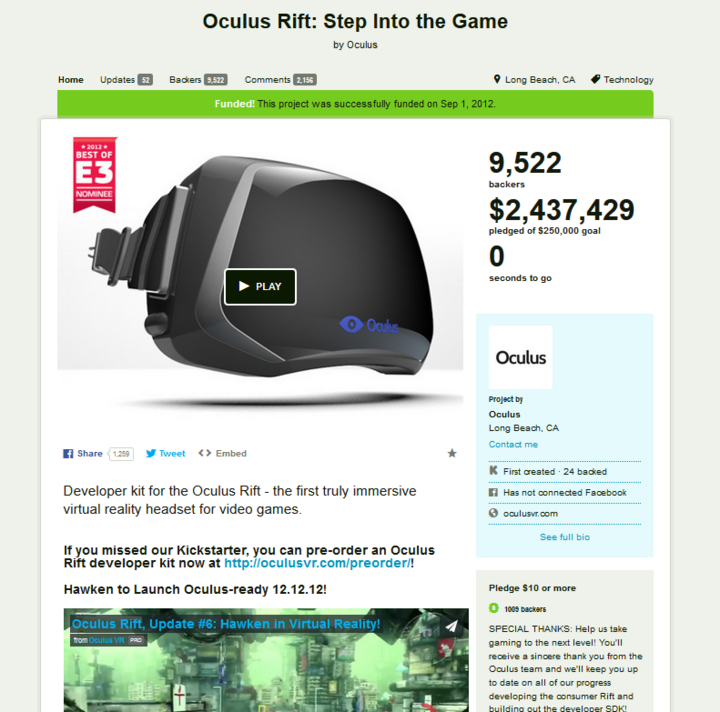 (Above) Oculus Rift original Kickstarter campaign page
Seek Angel Investment
Angel investors play a pivotal role in funding early-stage startups looking to rapidly scale their operations. These individuals possess substantial capital and are willing to invest in promising businesses in exchange for equity. Besides providing financial support, angel investors often offer valuable mentorship and understand that returns on investment may take time. Their involvement can be highly beneficial for startups seeking guidance and long-term growth. Uber, the transportation giant, received angel investment from prominent investors like Chris Sacca and First Round Capital. This initial funding from angel investors helped Uber scale into a global transportation platform.
Consider Venture Capital Funding
Many startups seeking substantial funding turn to venture capital (VC) firms. These firms employ professionals with expertise in identifying businesses with high growth potential. Airbnb, the online marketplace for accommodations, is a prime example of a company that secured venture capital funding. They received investments from venture capital firms like Sequoia Capital and Andreessen Horowitz, which provided not only capital but also strategic assistance and valuable connections.
Explore Government Programs and Grants
Governments and organisations offer various grants to support the establishment of small businesses. These grants are often targeted toward specific locations, sectors, or areas of business development. Tesla, the electric vehicle and renewable energy company, has successfully utilised government programs and grants. They received a loan from the U.S. Department of Energy's Advanced Technology Vehicles Manufacturing program, which supported their development and growth.
When it comes to achieving exponential growth and making your business stand out in a competitive market, partnering with the right marketing agency can be the key to success. HdE AGENCY is that brilliant partner you've been searching for, ready to elevate your business to new heights.
At HdE AGENCY, we understand the challenges businesses face in reaching their target audience and effectively conveying their unique value proposition. That's why we've assembled a team of marketing experts who are passionate about crafting innovative strategies tailored to your specific needs.
With our deep industry knowledge and extensive experience, we offer a range of marketing services designed to accelerate your business growth. Whether you need assistance with brand development, digital marketing, social media campaigns, content creation, or search engine optimisation, our dedicated team will work closely with you to create a comprehensive marketing strategy that drives results.
What sets HdE AGENCY apart is our commitment to understanding your business inside out. We take the time to listen to your goals, analyse your target market, and develop customised marketing solutions that resonate with your audience. Our data-driven approach ensures that every marketing initiative is strategically aligned with your business objectives, maximising your return on investment.
As a trusted marketing partner, HdE AGENCY goes beyond just providing services. We become an extension of your team, working collaboratively to bring your vision to life. Our expertise spans right across the digital & technology industries, and we have a proven track record of delivering exceptional results for businesses of all sizes.
So, if you're ready to take your business to the next level, partner with HdE AGENCY and harness the power of strategic marketing. Let us be the catalyst that propels your brand forward, increases your visibility, and drives meaningful engagement with your target audience.
Contact HdE AGENCY today to discover how we can take your business to new heights!